A de Grummond Primer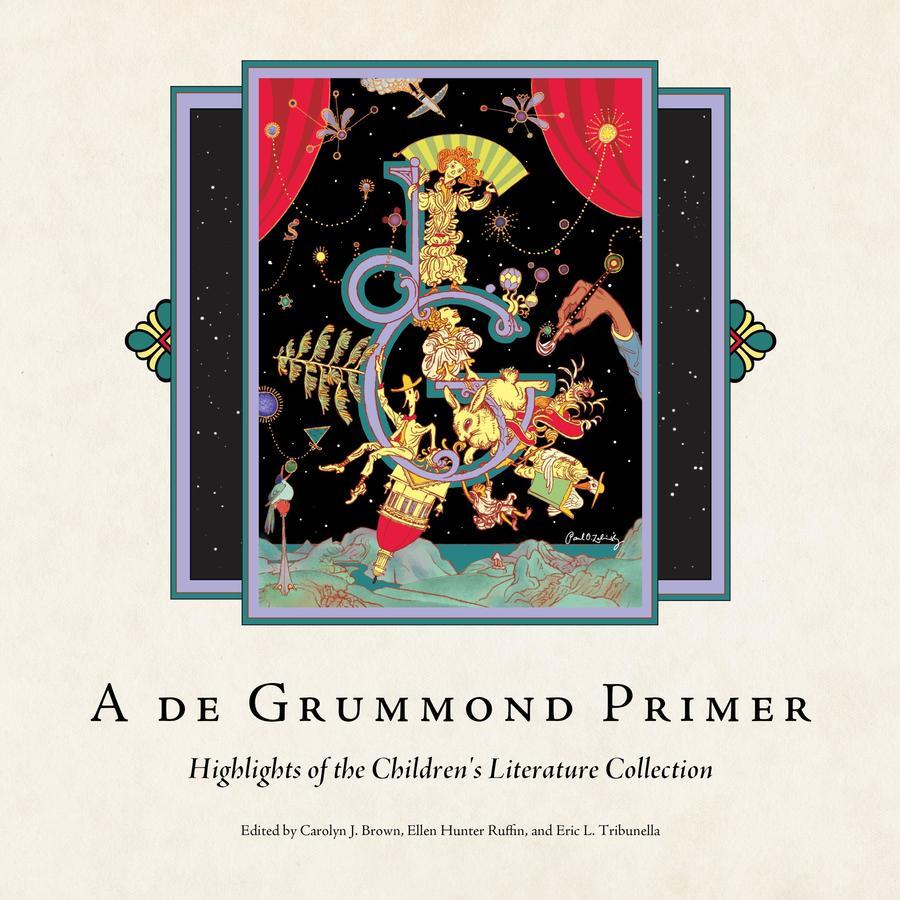 Contributions by Ann Mulloy Ashmore, Rudine Sims Bishop, Ruth B. Bottigheimer, Jennifer Brannock, Carolyn J. Brown, Ramona Caponegro, Lorinda Cohoon, Carol Edmonston, Paige Gray, Laura Hakala, Andrew Haley, Wm John Hare, Dee Jones, Allison G. Kaplan, Megan Norcia, Nathalie op de Beeck, Amy Pattee, Deborah Pope, Ellen Hunter Ruffin, Anita Silvey, Danielle Bishop Stoulig, Roger Sutton, Deborah D. Taylor, Eric L. Tribunella, Alexandra Valint, and Laura E. Wasowicz
During the 1960s, a dedicated library science professor named Lena de Grummond initiated a letter-writing campaign to children's authors and illustrators requesting original manuscripts and artwork to share with her students. Now named after de Grummond, this archive at the University of Southern Mississippi has grown into one of the largest collections of historical and contemporary youth literature in North America with original contributions from more than 1,400 authors and illustrators, as well as over 185,000 volumes.
The first book-length project on the collection, A de Grummond Primer: Highlights of the Children's Literature Collection provides a history of de Grummond's work and an introduction to major topics in the field of children's literature. With more than ninety full-color images, it highlights particular strengths of the archive, including extensive holdings of fairy tales, series books, nineteenth-century periodicals, Golden Age illustrated books, Mississippi and southern children's literature, nonfiction, African American children's literature, contemporary children's and young adult authors and illustrators, and more. The book includes contributions from literature and information science scholars, historians, librarians, and archivists—all noted experts on children's literature—and points to the exciting research possibilities of the archive.
De Grummond could not have realized when she wrote to luminaries like H. A. and Margret Rey, Berta and Elmer Hader, Madeleine L'Engle, J. R. R. Tolkien, Lois Lenski, Garth Williams, and others that their correspondence and contributions would form the foundation for this extraordinary trove now visited by scholars from around the world. Such major authors and illustrators as Ezra Jack Keats, Richard Peck, Rosemary Wells, Angela Johnson, and John Green continued to donate content. In addition, curators, past and present, have acquired both historical and contemporary volumes of literature and criticism.

Early Reviews:

"The next best thing to an extended visit to the de Grummond Collection, this handsomely illustrated volume introduces readers to a generous cross-section of the Collection's major holdings, with concise, authoritative category-by-category commentaries sure to pique the interest of researchers, nostalgia buffs, and everyone in between. "
- Leonard S. Marcus, children's book historian, critic, and editor

"This book reveals the significance of the de Grummond Collection and, as such, yet undiscovered and untapped historical insights. I've studied children's literature nearly twenty years and knew the collection was extensive, but until I read this, I had no idea how extensive. "
- Susan Stewart, Texas A&M University–Commerce